The Chartered Institute of Marketing (CIM) Sri Lanka and Serendib Flour Mills recently renewed a successful working partnership of 2 years by tying up again for the year 2017. The Memorandum of Understanding (MOU) signed between CIM Sri Lanka and Serendib Flour Mills will be a partnership of mutual respect and benefit.
Commenting on the partnership, Brian Selvanayagam, Vice chairman of CIM Sri Lanka said, "We are proud to partner with Serendib Flour Mills and grateful to their continued support to help promote CIM and its activities in Sri Lanka".
CIM Sri Lanka is the first International branch of CIM UK and is proud to claim the largest membership outside the UK. CIM Sri Lanka has always campaigned for high professional standards, greater recognition for the Profession and Marketing excellence in Sri Lanka through education, training and development.
Kevin O'Leary, Chief Executive Officer of Serendib Flour Mills (Pvt) Limited said, "We are delighted to partner with Sri Lanka's largest and most prestigious body for marketing, and it will be a great opportunity to combine efforts to create value for both parties through collaboration".
Serendib Flour Mills is one of the foremost flour mills in Sri Lanka with an ultra-modern, state- of-the- art flour mill based in the Colombo Port. SFML has the capacity to cater to the needs of the Sri Lankan and International markets and produce the Seven Star range of flour products with uncompromising focus on quality.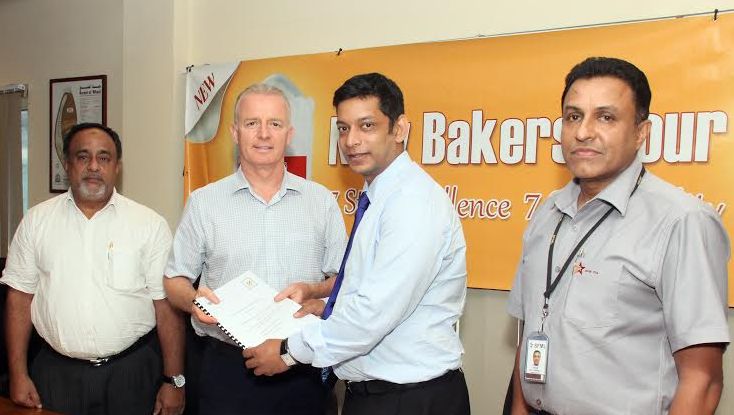 (L-R)
Abdul Cader, Director Sales & Marketing of Serendib Flour Mills (Pvt) Limited, Kevin O'Leary, Chief Executive Officer, Brian Selvanayagam, Chairman, CIM Sri Lanka, Kalinga Wijesekera, Head of Marketing and Communications.